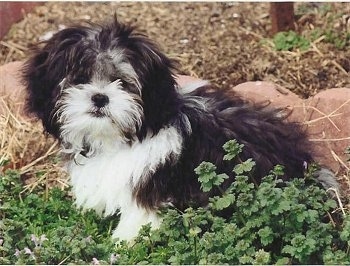 A while back
I mentioned I was thinking about getting a dog.
Yesterday my husband nudged me along, since I've been talking about it for months. So today I took the plunge and actually called about an ad I saw for adorable pek-a-poo pups.
The female is black and white (with an "active" personality) and the male is a laid-back brown and white cutie. As of this morning, no one has left a deposit, but several folks are interested. So tonight we are going to meet them (the Big Man called it pet speed dating.)
I guess it's a sign that I really want to do this because I am so excited and hoping no one else will claim them both. I originally wanted a female, but now I don't care (that calm male is sounding great.)
But I have a very serious problem, and I need YOUR help! What does a smart, sassy, sophisticated grandma-to-be such as myself name her new doggy?
If you're going to suggest Hank, Spot, Buffy, or Rufus, think again.
I need something original. Maybe a literary reference, a cool, little known saint or a moniker with a significant meaning.
I like Sophie for a girl because Sophia means "wisdom." (Just sounds like a very empowered feminine chick, but still a little darling, like her owner, of course.)
Should I get a male pup, I'm at a loss. Suggestions, please!